Stroll along Strand Road in Yangon, the once main commercial street of the city then known as Rangoon that overlooks the famous Irawaddy, in its time one of the greatest commercial rivers in the world. Its central gem is The Strand Hotel, a legendary edifice built by two Armenian brothers, the Sarkies, and one of the most prestigious in the whole of Southeast Asia at the time of its opening in 1901. After a full re-fit in 2016 it has regained its place in the hierarchy of hostelries where the elite rest their head.
After five decades of being locked away from the world Myanmar has opened itself up to tourism in a big way and Yangon in particular is becoming a major destination for those who want to see the renaissance of what was, a century ago, one of the most beautiful and cosmopolitan cities in the region with a stock of surviving British colonial-era architecture unparalleled in Southeast Asia, in close harmony with some of the most glorious of Burmese pagodas.
Before I leave Strand Road I stroll into the Accountant General's Office on the corner of Pansodan Street, with its weather-washed pale turquoise paintwork, where once clerks gathered the government revenue from salt, railways and opium. I'm attracted by the beautiful spiral staircase that climbs the walls of the hexagonal tower. Two aged gentlemen sat on bamboo chairs watch me as I make my way up the stairs, ascending into office life of the mid-1950s. As I make my way down a narrow hallway that hasn't seen a lick of paint in sixty years, held in gloom by intermittent tubular strip lights, the clack of typewriters from behind closed doors is the only sound that breaks the dusty silence.
At the junction of 41st Street and Merchant Road life takes a sideways step into the Dickensian world of squalid 19th century London, Merchant Road Market.
One metre-wide waist-high platforms run along both sides of narrow alleyways, grocery stalls with bulging shelves, picture postcards in their own right, when a postcard was a special souvenier, long before the tedium of smartphone 'selfies'. There is no definition of product; across the aisle from groceries, a stall selling cosmetics and pharmaceuticals with a selection of umbrellas, in demand year-round against the glare of the sun in summer and the ferocious rains of monsoon, next to a platform whose sole product is sacks of rice, next-but-one to which a vendor carefully stacks tier after tier of eggs, head-high alongside bulging plastic netting sacks filled with onions, garlic and shallots. Sandwiched in-between, a silversmith quietly concentrates on an exquisite piece of filigree jewellery.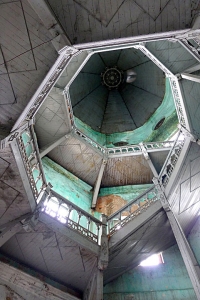 Two young boys laboriously crack open a pile of old coconuts, scoop out the white meat inside and feed it into the aluminium bowl of an electric grinder, from which a dribble of juice comes out the spout halfway down the machine, producing delicious coconut milk. If fresh coconut water is all you need to refresh you, it's quicker to step over Merchant Road to the dilapidated motorbike and trailer where a smiling lady will hack the top of a younger green version with a vicious-looking machete and offer you a straw to suck up the semi-sweet fresh juice inside.
Best seen before mid-day as by mid-afternoon the shelves have all been re-stacked, the vegetable bags sealed and the vendors packed up for the day.
I wander up to Sule Pagoda, one of Yangon's most important temples, but for me its delight is in the tiny shops that radiate from its circular base, their narrow frontage tapering into even tinier space at the back. Passport photos, rubber stamp makers, watch repair service centre, second-hand mobile phones – any business that deals in small goods where almost no storage space is needed other than for a table and chair for the owner. Audio cassettes still appear to be a thriving business.
Street food in Yangon is everywhere, cheap and – usually – very tasty, but there is one speciality, only found in Myanmar, that should be tried, if for no other reason than to say you've done it. Wat Thar Doke Htoe (pork sticks), a mound of pig's innards and gizzards, fat tongues and sponge-like tripe are sliced and slid on skewers and arrayed around a semi-circular cauldron in which a rich brown gravy simmers. The procedure is to take a skewer with the slice of pre-cooked meat and warm it in the gravy for thirty seconds, dip it into the slightly sweet and sour sauce in a bowl in front of you then eat it. Street sweepers sit next to suited businessmen, secretaries next to students, and for few kyat per wooden skewer they can have a modest snack or intestinal blow-out. (Read more at Everything But the Squeal)
But my dining is focused on distinctly different level, Monsoon on Thein Phyu Rd, back near Strand Road. The restaurant is aptly named because the extensive menu of this delightful peaceful spot full of original colonial charm is made up of dishes from the countries covered by the monsoon, Myanmar, Thailand, Vietnam, Cambodia and Laos. The apparent simplicity of the dishes (as compared to the complexity of their names) lacks nothing in their flavour; Nga phe ohn no cbet – fish cake in coconut curry from Myanmar, Keng onsol mak fak khen, stir-fried morning glory from Laos, a delicious green vegetable as common as rice in Asia but which, for some reason, the possession and growing of is seen as a category 1 and 2 misdemeanor in the US.
Having only a few fancy hotels, starred restaurants or chi-chi nightclubs, Yangon is unlikely to attract the high-flying tourist, but given the increasing international investment in Myanmar that will undoubtedly come. Now is your chance to see a city re-awakening from a deep sleep, still with its traditional markets, the street barber with an umbrella and chair as his salon, the ambulatory cart with a machine like an old washing mangle that crushes the semi-sweet juice fresh from one-metre lengths of sugarcane, and the benign shambles that make Southeast Asia so intriguing, but has sadly been lost in so many other countries.
More from Yangon