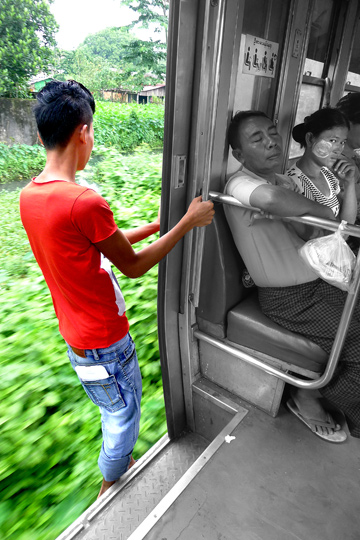 Between six a.m. and five in the afternoon the trains of the Yangon Circular Railway leave platform seven of the city's Central Railway Station off Bogyoke Aung Sang Road, alternating their departures in a clockwise and anti-clockwise direction. For three hours they collect and deposit commuters, between 100,000 and 150,000 daily, clacking their way in a loop through thirty-nine stations on a twenty-eight-mile circuit, for which you will pay the princely sum of 200 kyat – 11 pence.
I settle myself onto the 9.20 a.m. train as it prepares to leave the station in a clockwise direction. Vendors move through the central aisle, working the passengers with baskets and trays filled with a bewildering selection of goodies. If you need a fix of betel nut a man with a portable kit slung over his shoulders will make you a fresh quid. A dozen quails eggs to snack on, a toothbrush or disposable lighter? A lady with a plastic basket balanced on her head will serve you. Elegantly dressed in traditional white high-collared shirt and checked sarong, a charming vendor with a winning smile will prepare you a delicious snack from his tray of small pancakes, shredded vegetables and bottles of mystical sauces.
Snack-man sells out by the time we reach Isein, where he leaves the train. I watch him cross the rails to a vendor on the opposite platform who has a pile of samosas heaped high in a pyramid on a metal tray in front of him. The itinerant salesman re-loads his tray and sauce bottles, readying himself to to catch the next train going in the opposite direction, anticlockwise around the city. Round-and-round, day-after-day, selling his snacks to the same faces on a daily basis as they commute their way to work and home. He sees me with my camera and puts his thumb up, waving as our train pulls out of the station.
This is no time to stay in your seat and let the world go by, as life inside and out is always on the move. I prowl the aisles.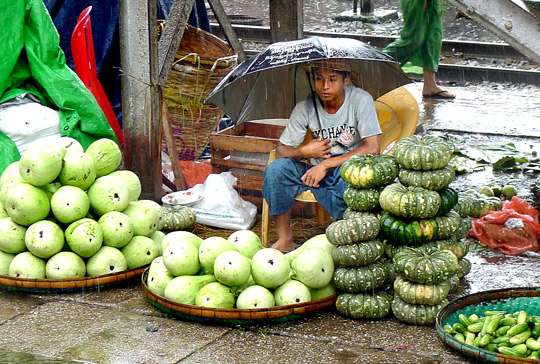 Have your camera ready for Danyingon, one of the main stops almost half-way around the circuit. On the station platform on either side of the track a large fruit and vegetable market glitters in bold Technicolor under a steady downpour, where a young man sits under a large black umbrella behind his display of pumpkins and melons, staring off into the middle distance, lost in thought. Freshly boiled corncobs for snacking; peeled and sliced mangos for juices; mounds of fruit and vegetables, most of which I don't recognise, for housewives to pick and haggle over; skewers of sausages and bananas gently grilling – a snapshot of life on the rim of a great metropolis.
Nearby, a group of four ladies in pinks and blues huddle under umbrellas, waiting for the next train to save them from the driving downpour. As we're waiting, a male vendor shouts at me and points to a woman peeling mango. He calls to her, she looks up and sees me and smiles making the 'V' sign, raised index and middle finger with palm facing outward. This sign, usually held somewhere around the face is ubiquitous throughout Southeast Asia, with no definitive answer to its origin. I take a photo and return the 'V'. She bursts into a cackle, shared by almost everyone else on the platform.
As the train clacks on, small moments of no great importance add delight to the ride; the thumbs-up and toothless grin of the old man sat next to a wooden station shed and the pretty smile of the young girl stood at his side; the man who shouted 'Move!' at me as he threw an enormous bunch of plastic-wrapped lilies through the cabin door and his smilingly profuse grin as he thanked me for dragging them in as the threw up two more bundles; the wave from the elderly lady under the big black umbrella protecting her from the monsoon downpour as the train slowly pulled out of Migaladon.
The journey continues through countryside drenched by the monsoon, small pockets of colour occur: the sparkle of the gilded stupa of a village temple framed by blue roofs of village houses balance the dour ochre of bamboo homes set against the verdant green of rice paddies. People come and go; vendors patrol the aisles, villagers doze on their way home, passengers hand out and pick up plastic containers, string bags and cardboard boxes of this-that-and-the-other as the train stops for a few minutes at tiny halts barely marked on a map. The gentle roll of the coaches brings on a rhythm of sonabulence, the halts awaken briefly before dropping into a doze again. I stay on my feet, wandering up and down the aisles, waving at kids splashing in the flooded channels by the track, commiserating with elderley ladies as I put out my hand to help drag them on board – and they do it a damned site quicker than I do!
If impatience grabs you, jump off the train at any station and grab a taxi back into town, but the Yangon Circular Railway is one of those experiences to simply relax and go along with, smile at the locals, snack on simple food, and take a happy-go-lucky breather from the bustle of the city.