Each culture has its own way of respecting their dearly departed, from the extravagance of the Chinese who send up in flames great wads of money, sporty cars, the latest in chi-chi fashion or the grandest of stately homes – all fake of course – to provide for a comfortable afterlife for those who have just left this one. In contrast, for a Muslim funeral the body is ritually washed and wrapped in three layers of white cloth, laid in a grave with perhaps a few prayers being said, and the mortal form completely forgotten.
If you can' t take it with you…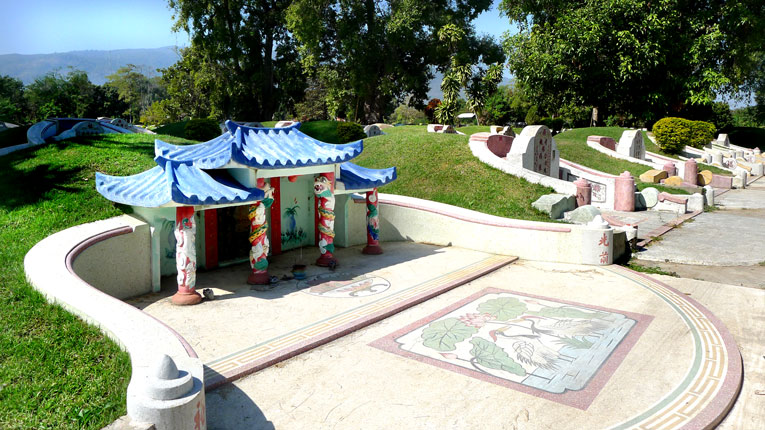 Just north of Chiang Mai's Superhighway is the Chinese Cemetery, a place of undulating greenery, the grass cut as trim as an English bowling green, that looks like rows of terraced houses in Hobbitsville. Step through the small side gate on Anusawaree Singha and the first tomb to strike your eye is a beautiful miniature blue-tiled pagoda, the epitome of historic Chinese architecture. This sanctum is the only one in this style, a mildly humerous touch of singularity in the repetition of every other tomb following the same format of decorative panels placed on the front, although as with many elements of life, death is used as a way of showing off the affluence of the deceased. If they can't take it with them at least an ostentatious burial place can show how well off they were in life.
Decorating many of the tombs are painted urns full of flowers, fish and animals, bucolic scenes of mountains and lakes, stands of bamboo and branches of blossom to remind the deceased of their ancient homeland; glorious examplars of calligraphic art, dragons of ever fearsome visage and demeanor. A small statue of an angel stands in front of a simple tombstone, devoid of any other ornamentation, possibly the last resting place of a Chinese Christian who wanted to spend eternity surrounded by his fellow countrymen.
Most of the tombs have moderately simple facades free of any decoration save the occupant's name and a brief note of their existence. Rows of council house terracing for the dead. Filter away from the celestial homes of the hoi-poloi to the 'suburbs, the outer edges of the graveyard, and like the gated communities of the earthly-bound wishing to isolate themselves from the common herd the palatial residences of the well-to-do become more ornate, celebrating the wealth of the owner and their position in society. Gilded Foo Lions (known as Foo Dogs in the west) stand eternal guard, the side panels painted on cement of the middle classes become elegant 3D carvings of cranes in flight and other imagery symbolising the resident's ancestry.
An occasional unfinished structure looks like a house on a fancy estate, unfinished because the owner ran out of money, but judging by the vases of wilted flowers in front of some of them the owner took up residence anyway.
Simplicity and a short goodbye
In total contrast to the ornamentation of the Chinese Cemetery, the Muslim burial ground looks like an old graveyard that has been forgotten about and left to go to seed. In a way, that's true, because in the Muslim tradition once the body is interred the mortal remains are simply left, with nothing to show for their being there other than a small marker with the deceased's name, birth and death dates. As ever, this sometimes varies slightly with modest embellishment, something frowned up by the Islamic faith.
On my second visit to the Muslim Cemetery on Padad Road I see a grave being dug so stand at a respectful distance watching workers at their labours. A leathery-skinned man as skinny as a rake sports the long beard without moustache typical of the Arab Muslim, although I find out later he's Burmese. He grins with a mouthful of rotted teeth and waves me over.
I am greeted by Mr Saphret, a fourth generation Thai of Chinese descent who speaks excellent English, courtesy of a Catholic education at Montfort Academy. On my first visit it had seemed incongruous that there are headstones written in Chinese until Mr Saphret tells me that sixty per cent of Muslims in Chiang Mai are of Chinese descent. He points out the grave of his grandparents, in a graveyard that is over two hundred years old, one of three around the city.
According to Islamic shariah law, the body should be buried as soon as possible after death, and the eight men assembled to dig the grave are all volunteers brought together by a phone call to tell them there is a body to be interred and help is needed. They may not know the deceased or the people they will be working with but bring their own adzes, hoes and buckets for the digging and planks of wood to take their weight without disturbing the soil as they go about their work, which they do with enthusiasm. Burmese, Chinese, a Buddhist who converted to Islam when he married, each taking his turn wielding the sharp-bladed hoe and while my toothless Burmese friend may be skinny he's as tough and wiry as they come. When he takes his turn to dig everyone watches with admiration at the speed he lugs his hoe.
It's like a day out at a garden, laughing and working with a group of friends, but this isn't a garden of remembrance because once the prayers have been said the plants and flowers that have been placed in the mound of soil covering the coffin are left to wither and return to the soil from whence they came. As I leave, lunch arrives in flat take-away cartons, the meal paid for by a volunteer out of his own pocket.
A corner of a foreign field
'If I should die think only this of me:
That there's some corner of a foreign field
That is forever England'
Rupert Brooke, The Soldier.
The Chiang Mai Foreign Cemetery sits in a triangular plot on the old Chiang Mai to Lamphun Road, sharing a boundary with the Chiengmai Gymkhana Club. Note the word 'Foreign', not 'Christian', as when the Royal Deed of Gift for the land was granted by  H.S.M. King Chulalongkorn, Rama V, on 4th July, 1898 it was explicit that the cemetery may be used 'for the burial of the bodies only of foreigners'. This creates a problem for Thai spouses, as they can't be buried with their partner, even if they have converted to  Christianity, unless they have acquired foreign nationality.
Unlike the poet Brooke's corner of a foreign field being England, the Foreign Cemetery is the last resting place of multiple nationalities, mainly European and American. Its carefully laid-out plots with crosses and tombstones could be anywhere, but it is the markers themselves that tell the stories of those who ended their days in Chiang Mai or wanted the city to be their last resting place.
Some are simple, literally a marker – 'Felix Fert, French', who died in 2008, six months short of his sixtieth birthday; a white-painted cross with the hand-lettered name of Helen Myers Morse in black, weathered with age, although the ornate marble headstone of another Morse directly behind that of Helen, in this case one Betty Sue Merriweather Morse, is so effusive in its claims to Betty Sue's near-sainthood that you almost expect to see 'continued overleaf.' inscribed on the bottom.
In keeping with their stiff upper lip image, the British tend to be tongue-in-cheek and succinct in their memorials. Tony Ball 'Adventurer, Englishman, Ornithologist'; Dacre F.A. Raikes 'Teak Wallah 1951-1956'; or Richard Willoughby-Wood MC who is simply described as 'An Asian Legend'.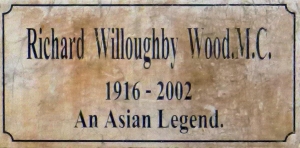 Some markers are sad, such as those of Infant of AB Case d.1930, or that of Jenna Dawn Kellerer, 21st July, 1994, both still-born but whose short existence still merited recognition, as indeed it should. But who can resist a smile at Happy Happy Sachiko – Sachiko Sato, 1937-2005, born in  Osaka, who died at the age of 67 only a year after coming to live in Chiang Mai, her greatest interest at the time of her death being, apparently, computer graphics.
Whether we like it or not, inadvertent humour is inescapable in cemeteries. On the gravestone of New Yorker Arlon Arthur 'Artie' Waite it seems the person responsible for lettering his marker wasn't English-speaking, as instead of simply recording that 'Artie' was a 'Farmer and Teacher' they also copied the instructions, writing 'Headstone Read 'Farmer and Teacher'', while the epitaph of Sgt G.B. Cross USMC, which reads 'Old soldiers never die, they just fade away' is an apt sentiment, given that the wooden cross that bears the words is slowly disintegrating.
It's comforting to know that when we turn up our toes there's somewhere we can rest in peace, wrapped in our faith, whatever that faith may be, and whether our final destination is a grassy mound, an abandoned hole in the ground or a carefully laid out plot is immaterial, so long as in the heart of at least one person, we are 'gone but not forgotten'.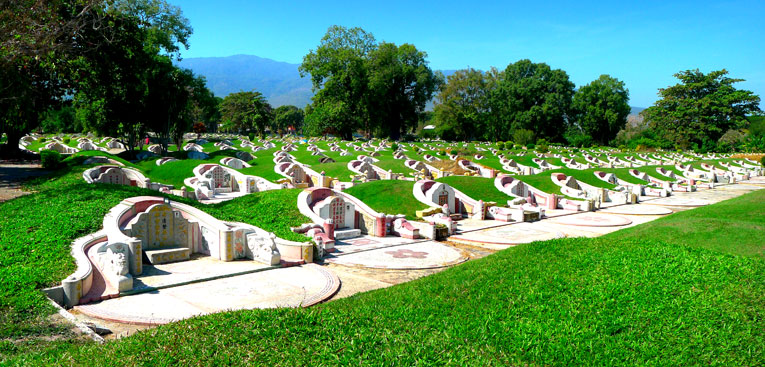 For a cemetery in New Delhi, India….