Half-way up a narrow alley on Ramdwara Road, close to New Delhi's Nerhu Bazar, an arched sign welcomes you to the Indian Christian Cemetery, Paha Ganj. Through the gates, another sign informs visitors 'This cemetery is full to its capacity. Only family graves (doubling) is allowed.' 'The space for fresh graves ran out long back,' says Arnold James, Chairman of the Cemetery Committee.
I walk into the graveyard and the first thing I see are rows of crosses close together that mark the last resting places of children, the volume of them indicating the high infant mortality rate; Baby Nisha Thomas who lived one day in October 2010; Justin Raju, whose short life only lasted eight days in June 1999, and the poignant memory to an un-named 'Baby girl, stillborn 11.11.9….', the exact date unknown because the right arm of the cross that bears the year is broken off. D/O is seen on numerous markers, signifying 'Daughter Of…' followed by the parents' names.
Doubling refers to a recently introduced option of reusing graves, digging up an existing grave for second burial, but a facility only allowed after ten years, and only offered to people with a family member already buried in the cemetery. 'There are already about nine thousand graves in Paha Ganj cemetery,' comments James. 'Now we are exploring the option of third burial in the same grave, although at funerals, relatives sometimes complain about having to dig up old graves belonging to other people to bury their dead. This, they feel, takes away the dignity we owe to the dead and also leads to confusion among those coming to pay homage in later years'.
Most graves are quite simple affairs, no more than a white-painted cross with a hand-lettered inscription. Others have a canopy over them, sometimes with a photo of the deceased on a marble headstone. It's almost understandable to see photos of elderly people, but on a bright, sunny day it is sad to see the freshly-garland, smiling photo of Miss Anumol Joseph, who passed away at the youthful age of seventeen. Nearby, a faded photo of baby Rachel John is a sad reminder that she died aged only eleven months and one day on 16.2.2003.
While many of the crosses bear western names, it is apparent in some cases that whoever carved the inscription wasn't a native English-speaker. On the gravestone of Therese Maria Kanjamala, who lived for eighteen days short of her third birthday in September 2012, a memorial shared with Treesa Jose Punnayil, whose short life lasted only four months and six days in 1998, an inscription reads
Let the little children come to me
And do not binder them
For such belongs the
                  Kingdom of Heaven
The shrinking burial space is forcing a change in Christian funerals. Today, there are about three thousand Christians in Delhi, half of them Catholics, many of whom are forced to opt for cremation because of lack of burial space in the city. But most people still prefer burial so one solution lies in creating kacha (mud) graves rather than pakka (concrete) graves in cemeteries. Kuchha graves can be re-used in 5-6 years, a bonus being that such graves bring down the cost of a funeral, with pakka, at 3,500 rupees, almost twice the price of kacha (as publicised by a rates board at the entrance to the cemetery).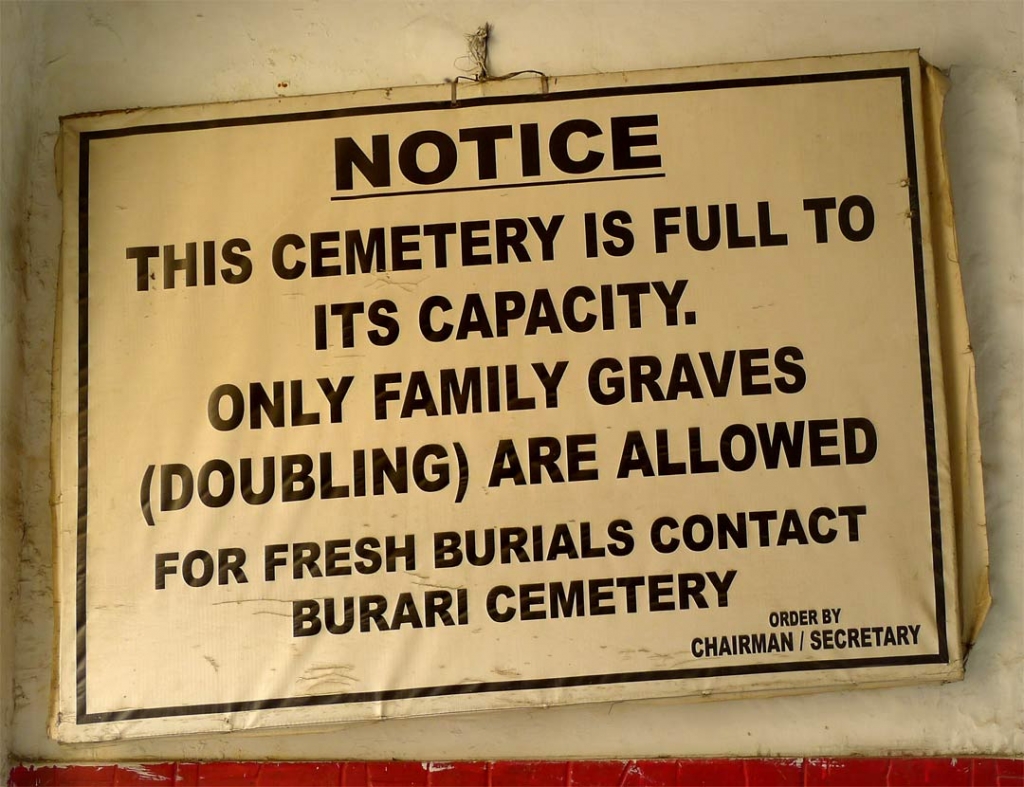 The Delhi Cemetery Committee is now also promoting the use of niches – small shelves in cemetery walls – for storing the remains of a body after opening the grave. "This will allow other people space to bury the dead. Necessity is the mother of invention," commented one committee member.
Sahil Kerketa and his wife, Reena, a Catholic couple, are concerned about what might happen to the grave of his father, buried in the Indian Christian Cemetery prior to the 'doubling' order being given, and are unsure about where they might be able to pay their respects in future.
'My father was buried in a fresh piece of land, but now there is so much shortage of space that I feel insecure about his grave; who knows when they will dig it up for re-use?' Sahil told me. For practical reasons the couple would prefer the burial of ashes rather than that of the body. 'The eighteen by eighteen inch box rather than the six by eight feet coffin will give space to many more people for a much longer period,' said Reena.
So far the Indian Christian Cemetery has avoided the route taken by the authorities of the St Thomas Christian Cemetery in Tughlakabad who, in 2012, decided to build a vertical cemetery of three hundred crypts. Completed in 2015 it is Asia's largest vertical cemetery.
Despite the desperate shortage of space, many of the graves are abandoned but it's nice to see that for some people their loved one's memory lingers on, and even though she died in February 2003, the grave and cross of Mrs Catherine Perdon have been freshly painted fourteen years later, her name carefully picked out above that of Budha Masito, who died almost half a century ago, the pencil lines used to guide the painter's hand still in place.
Like cemeteries world-wide, the Indian Christian Cemetery of New Delhi isn't just a place of death, it's as much a place of colour, vignette and touches of humour. The grave of two-year-old Agnes is bright blue, that of Baby Kushi bright pink, while sixty-two-year-old Christine Shah opted for green, decorated with garlands of yellow marigold.
A couple of boys in their early teens working with a group clearing dead branches spot me taking photos and rush over to strike a pose as if they were picking up a pile of dry grass; close by, Mr Pushna chips away at the old pakka that covers the brickwork he has exposed from an original grave, preparing it for doubling, although as he appears to be only in his mid-forties it's unlikely that he will be the future resident; a family arrives in a red electric tuk-tuk, large mum and small son sit in the shade in the vehicle while dad peers at grave markers as he wanders between aisles, occasionally indicating his lack of success and they move to another sector; a tiny, arch-topped red-stone marker, no more than 6" high has Reserved for etched into it, without saying who the reservation is for, although it was obviously made a long time ago, given its weathering and angle of settlement.
And it seems a shame that someone with the delightful name of Twinkle Joseph shouldn't have lived beyond her second year. Imagine the sparkle she could have brought into the lives of others.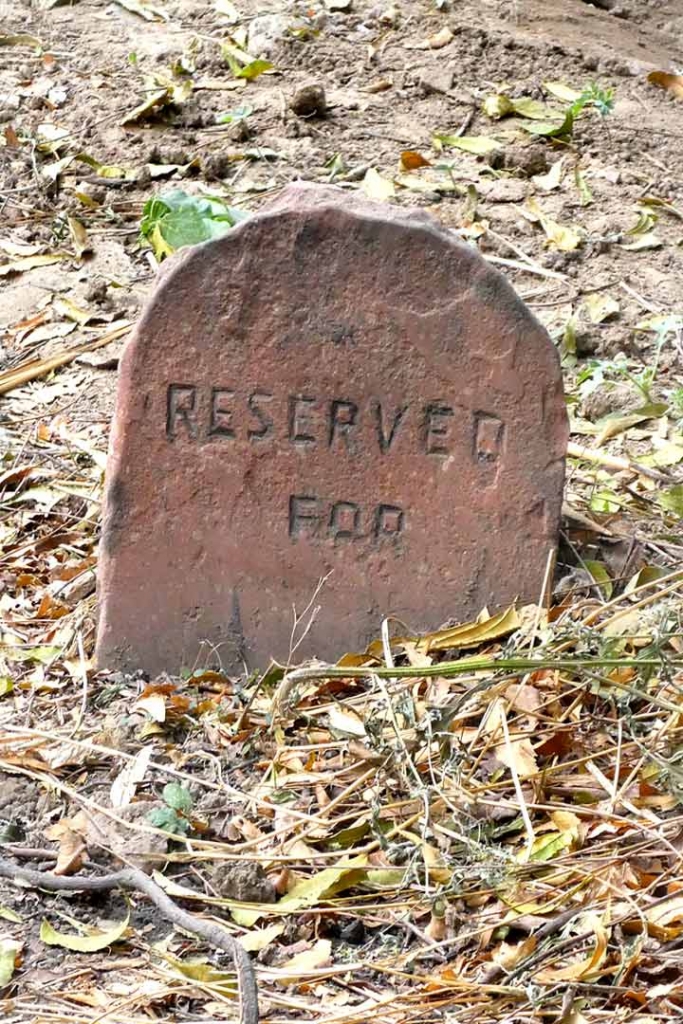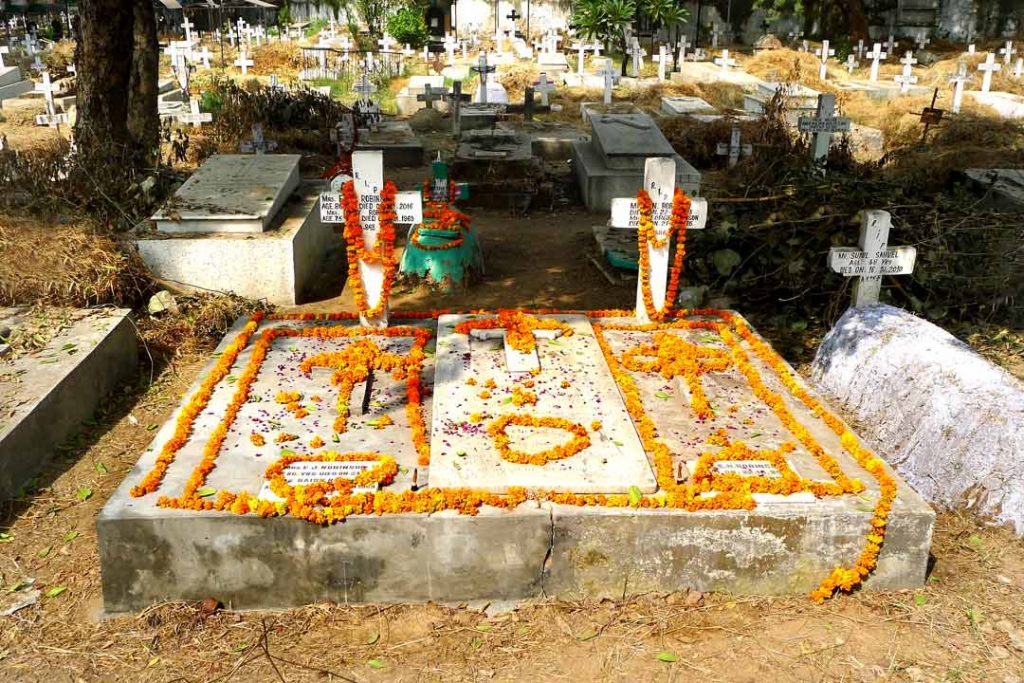 Indian Christian Cemetery, Nehru Bazar, Paha Ganj, New Delhi. GPS 28°38'19.0″N 77°12'43.4″E 
Read about the Pushkar Camel Fair HERE