Furniture makers, mattresses emporiums, fabric stores, interspersed with pharmacies, cheap food restaurants, grocery stalls, sari shops and handbags, pots, pans and jewellery, the accoutrement of everyday life.
Most of the buildings that make up Nehru Bazar on Ramdawara Road are cheap and nasty in all senses of the word, from tumbled-down old ruins to fairly recent excrescences thrown up without any thought of planning or design. Some shops have attempted to go up-market with fancy facades – it doesn't work. But it isn't the architecture that brings you here, it's the hurly-burly of commerce in the neighbourhood, where life pulsates day or night – especially at night.
Although it connects with Main Bazaar Road, Nehru Bazar, which stretches the length of Ramdwara Road, is as a far cry from the tawdry tourist trade that floods almost the length of Main Bazar from New Delhi railway station to Chitragupta road.
A couple of minutes from its junction with Panchkuian Road, on the left is the only spot of relative peace and quiet in the area. An arch over a narrow alleyway announces the Indian Christian Cemetery, where a sign just inside the gate tells you that the cemetery is so full that 'doubling' i.e. digging up the interred to re-use the grave, is now the only option.
A few metres on, Kurhana Handloom and Cotton Store is one of a row of businesses producing batting and ticking, the stuffing and covering for the mattresses made and sold at other shops along the street. In a rough workshop above the store, that would have been recognisable by Charles Dickens in his wanderings around the mean streets of 19th-century London, accessed by an ancient wooden ladder, a rapid clicking signals the use of a frighteningly dangerous, belt-driven machine, separating wads of cotton into batting for stuffing mattresses. Threads and dust moats float in the stagnant air of the tiny cave, the machine operator's lungs protected only by a length of cloth stretched over his nose and mouth. Great sacks of the separated batting and piles of mattresses covered in striped ticking are stored on the roof, protected from the elements by tattered blue and green plastic awnings. Constant movement as the sacks are man-handled up the ladders onto the roofs and bundles thrown down, caught in mid-air and stacked on a bicycle trailer and hauled off to a client.
You come to a white wedding cake of a building on the left, a mosque, all pillars and posts and ornate fenestration (photos), with strings of pink fairy lights hanging from the roof, giving an air of jollification when illuminated. You can't enter, but no-one will stop you from standing at the door and admiring the gilded gods and goddesses, including Hanuman, the Hindu monkey God, the symbol of strength and energy.
As a slight detour from Nehru Bazar, the alley to the right of the mosque is worth a wander down to hear the vegetable vendors hawk their wares, although everyone is selling the same produce. On the right just as you enter you may see a man shredding what looks like kale in a small cast iron machine that looks like an early version of a potatoe slicer. At intervals spice sellers display their stock in small sacks, their tops turned down. Some spices are pre-ground, others are ground in an electric coffee grinder while you wait. If you have a special mix in mind the vendor selects your choice and puts seeds, pods and nuts into the brass tray of a small set of scales, from where it is transferred to the blender. When ground to your satisfaction the powder wrapped in a cone from a pile of torn-up newspaper – as anyone of a certain age will remember from the sweetie shops and chippies of their childhood.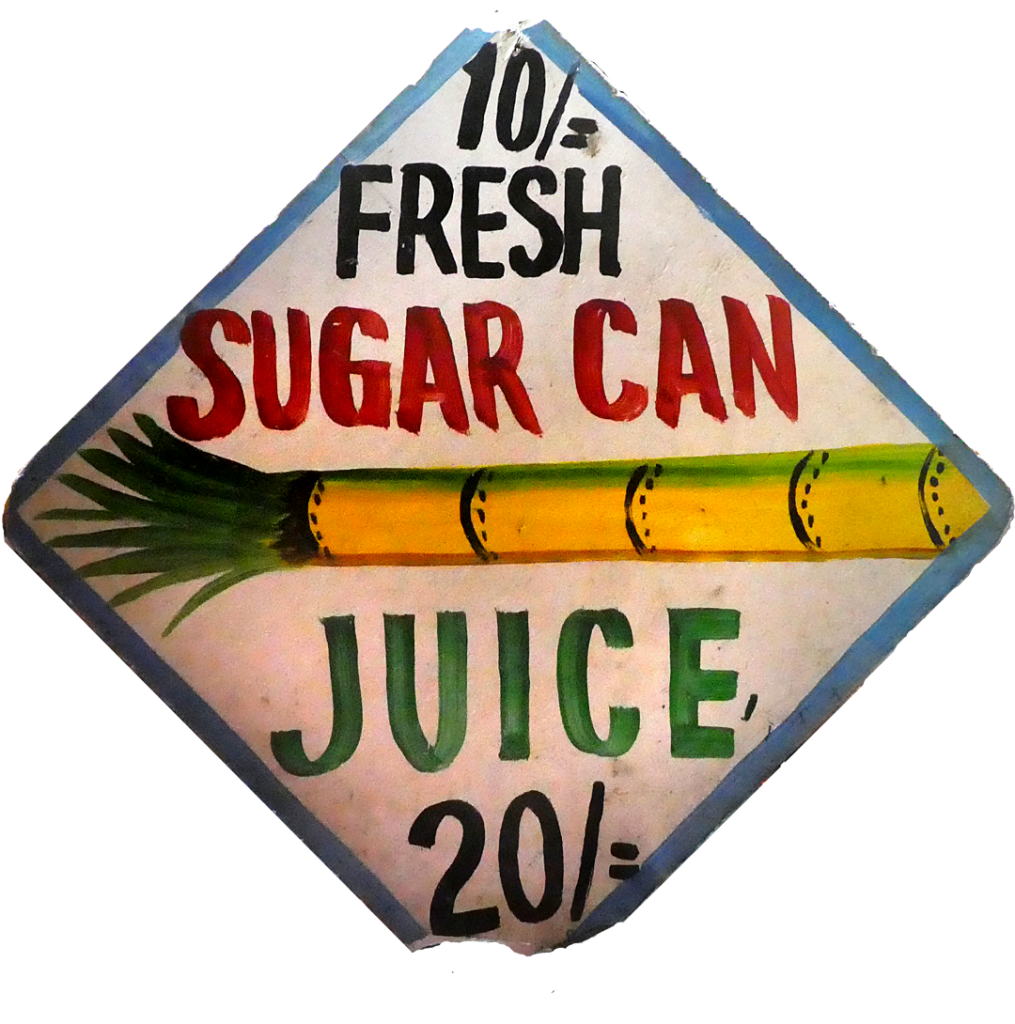 Back on Ramdwara Road and into Nehru Bazar again, it's at this point that the road shows signs of a former elegance, with a leftward sweep, on the upper floors of which are pillared balconies with decorative brickwork. Sadly, this elegance is short-lived and the mish-mash style of architecture reigns once again. At this point a stall sells fresh sugar cane juice, crushed from the cane by an ancient machine, working in much the same manner as a washing mangle squeezing water out of sodden clothes before the advent of the spin dryer.
As you come out of the right-hand bend of the S-curve you arrive at a market with a statue of a goddess sitting on a lion's back, the Goddess Durga. One of the many mythological explanations is that the lion is a symbol of uncontrolled animalistic tendencies (for example, anger, arrogance, selfishness, greed, jealousy and the desire to harm others) and Durga sitting on its back reminds us to control these qualities, so that we are not controlled by them. With a supposed 330 million Hindu deities you can be pretty sure that someone will disagree with the story and have a favourite of their own.
During the day the makeshift temple with its purple tented roof is a relatively subdued affair but at night it sparkles with washes of coloured light passing through pink, green, blue and red, while devotees – mainly young men – perform their abeyances or just sit around and chat.
At this point Nehru Bazar and Ramdwara Road join Main Bazar Road, the railway station to your right, Ramakrishna Ashram Marg Metro Station to your left. The junction is a busy night market of food, kitchenware, clothing and meandering cows, separating the everyday life of the locals from the T-shirts and vegetarian restaurants of the tourist trade. On the far side of the junction is a small shop, apparently unique in the area, its stock-in-trade being wooden print blocks that make ideal, easily transportable gifts and can be used either for decoration or for printing designs with an ink pad. A little gem in a sea of saris and souvenir shops.
Main Bazar Road runs from the New Delhi Railway Station on Chelmsford Road to beside Ramakrishna Ashram Marg Metro Station, Chitragupta Road. To find Nehru Bazar take Panchkuian Road from the Metro alongside the overhead metro line to the first set of traffic lights. Turn left into Ramdwara Road, a wide street opposite Lady Hardinge Medical College (no street sign). A small Vivo shop on the right next to an equally small clock shop tells you you are on the right road. 28°38'15.8″N 77°12'42.3″E  
All the fun of the Pushkar Camel Fair HERE