Certain aspects of life in Thailand draw me like a magnet attracting a packet of pins. Bus stations are one of them, where the action still smacks mildly of adventure, not the card-swipe tedium of most western bus depots. The 'old' bus station in Chiang Rai, just off Phaholyothin Road (to distinguish it from the new one on the edge of town) is a perfect example, a fabulous chaos of beat-up old busses held together with string and hope that rattle like a tin can full of stones when their engine kicks over, blowing out clouds of polluting black smoke from the exhaust. Drivers and conductors call out their destinations, "Mae Sai", "Chiang Saen", "Chiang Khong", while passengers loaded with boxes and bundles clamber aboard and weary farang (foreigner) take their seat, not looking forward to the tiring six-hour border-run to renew their Thai visa.
It might seem just a provincial backwater now, but Chiang Rai beats in years Thailand's capital by almost half a millennium. At 233 years old, Bangkok is a mere slip of a lad compared to its 719-year-old granddad, although to be fair, there's not a lot of antiquity to be seen in Chiang Rai these days other a few bits of the city wall. But what it lacks in the ancient is certainly made up for in the curious and intriguing in other departments.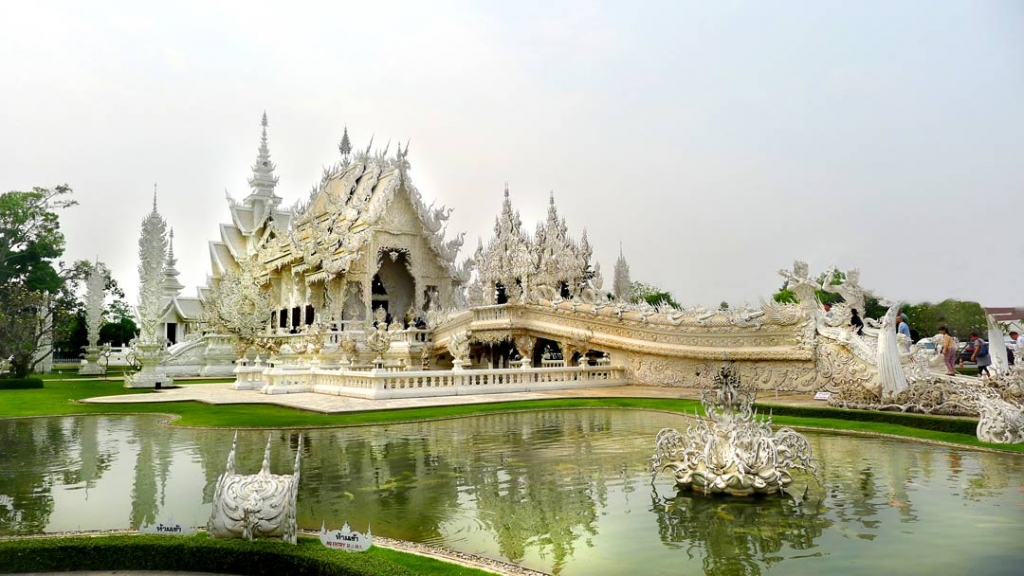 Before I even arrive at Chiang Rai I make the requisite stop at Wat Rong Khun, more popularly known as The White Temple, fifteen kilometres west of the city. Designed by Chalermchai Kositpipat, one of Thailand's best-known artists, photos can't do justice to the sheer extravagance of the edifice with its screaming demons, benevolent-faced angels and ferocious guardians, everything in brilliant white with the sun sparkling off tens of thousands of tiny pieces of broken glass embedded in the walls and sculptures. The colour is said to represent Buddha's purity, the latter his wisdom. (See Chiang Rai, The Capital of Kitsch)
As night rolls on, the streets around the bus station become the Night Bazaar, a place for where the term 'hustle and bustle' could have been invented. Mainly souvenir-type goods –  silver jewellery, hill-tribe fabrics, handicrafts at bargain prices, the inevitable carved soap candles and elephant-emblazoned T-shirts – it's nonetheless a pleasant, if sometimes crushed, evening's meander. Being pedestrianized, you are free to stroll without the threat of a motor scooter bumping you up the backside.
An enormous open space alongside the stalls is filled with well-worn metal tables and chairs and ringed by food stalls, many of which sell tempura, deep-fried seafood and vegetables. Fifty baht for a small plate of mixed veg; one hundred will get you some chicken added, for fifty baht more you will be rewarded with a handful of prawns and squid. There's no language problem here; sample plates are laid out on display with price stickers, you simply point, pay your money and wait until it's freshly cooked before your eyes. Add a couple of small grilled kebabs with peanut sauce and you have a feast. And the feast comes with a show, varying from elegant ladies is sarongs performing traditional Thai dance, through a guitar/violin duo of local music to ultra-camp kahtoey, lady-boys done up to the nines in sequined ball gowns lip-syncing to disco-divas.
Tucked into a corner at the opposite end of the dining area to the stage is Ai Ya!, an ice cream cart, but not one that serves simply cones, tubs or the strangely tasty ice-cream sandwich made with slices of white bread. Here the vendor scoops out the insides of melons and coconuts, chops them up and returns them to their natural container along with scoops of superb homemade ice-cream – mango, melon, coconut and watermelon flavours, mixed-and-matched to your taste. It becomes my final staging point on my way home each evening.
As you would expect from any provincial capital there is no shortage of shopping to cater to your every need; itinerant ice-cream vendors to cool you, street stalls selling spicy Lanna food to heat you up again. But just as Thai bus stations rouse the traveller in me, Thai markets pull me into their dark interiors filled with who knows what.
The Municipal Market on Uttarakit Road is a maze of shoulder-width alleys, the shops' counters and displays overflowing with tantalising merchandise. What can't find a flat surface to rest on hangs from bars above head height, lifted down for the customer's inspection by a pole with a bent metal coat-hanger taped to the end with coloured electricians' tape as a hook. Plastic shopping bags, fishing rods, packets of seeds, all sold by a stall next to one selling bras, voluminous knickers, kids school back-packs and plastic sandals. There seems to be no order to the layout, although I suspect there is one that isn't obvious to my western eye. This haphazard collection of the mundane accoutrements of everyday living is far more enthralling to me than a stroll through Harrods of London, the up-market emporium of the super-rich.
Local vendors and hill-tribe villagers sell produce that rarely gets seen outside the region; rings of stout spicy Lanna sausages and Burmese delicacies to accompany a bowl of fried crickets should the appetite require. I settle for a bowl of khao soi, spicy crispy noodle soup with chicken (and definitely not to be confused with kahtoey!) that sets me back forty baht at a stall in the centre of the market while I watch life buzz around me.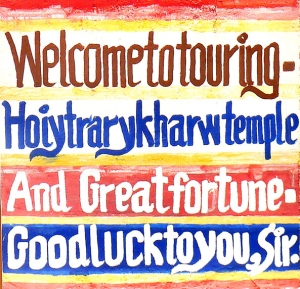 Like many cities worldwide a river was the lifeblood of commerce for centuries, in this case the Mae Kok. It may no longer be the hectic thoroughfare it was in times past, but the Kok River still has its moments of enchantment. Regular boat trips are made downriver from Tha Ton, seventy kilometres to the north-west of Chiang Rai and can be taken as either a day trip with stops at riverside villages or as a two- or three-day excursion, visiting the Ruam Mit elephant camp and nearby hot springs, and taking a trek, spending the nights in villages of the Akha and Lahu hilltribes. As most of the trips begin in Tha Ton and the boats have to go back empty you could do the ride in reverse, going upstream, which takes a bit longer but you could quite easily have the boat to yourself.
For a more casual approach to the water, hire a private boat and helmsman for around a thousand baht. It will be yours for three hours and let you see how the other half lives as you meander past riverside homes that most people could only dream of owning. To make your dreams a reality a mere twenty million baht will buy you a glorious four-bedroom house built in traditional Lanna style on an acre of beautifully landscaped gardens with koi pond, waterfall, a Japanese style bridge and a separate house for the maid.
Not having the wherewithal to buy a palace I settle instead for a visit to Chivit Tamma Da, a delightful riverside café, restaurant and spa set in a gorgeously romantic house with an air of Edwardian elegance. It's the sort of place you could while the day away without ever noticing the hours passing by.
Much of the restaurant's ingredients are locally produced, even the coffee, and as much as I love Thai food I'm taking the opportunity to enjoy farang dishes not usually available to me. My starter of vermicelli with deep-fried soft shell crab, with just a hint of spiciness, followed by Swedish-style meatballs with fried potatoes, sautéd onions, gravy and Ligonberry jam, supported by a glass of Fullers London Pride ale, leave me a contented man. I pass a pleasant hour leafing through magazines over coffee served in a Wedgewood cup and saucer on the wooden terrace, trying not to doze off in the afternoon sun.
River life on the 'other side of the tracks' – in this case on the other side of the river on the other side of town – is found at Chiang Rai Beach. Not the sandy stretch of blue, sea-lapped tranquillity that most people think of when the image of a Thai beach occurs – they are all in the south of the country – but a long expanse of open river bank with a mountain as its opposite view. Kids jump off rocks into the river's flow, teenagers swirl themselves giddy in huge inflated tractor inner-tubes – and everybody eats, drinks and makes merry in the hundreds of open-sided bamboo cabanas lining the shore served by dozens of tiny kitchens. Eat, drink and doze in the shade of the palm-frond roof is the order of the day. Hectic as anything during the summer months of March to May and then peaceful as can be for the rest of the time.
It's Friday night, my last night in Chiang Rai, and I've saved some of the best till last. The Thai are usually surprised that my palate can often out-spice theirs, and Phu Lae on Thanali Road is famed for the quality of its Lanna cuisine, known as some of the most fiery in Thailand. I opt for a fat tilapia, the most popular fish in Asia, steamed at the table with kale, chopped chili, garlic and lemon, simple ingredients that combine to create a superb dish. To add vigour to the meal while staying on the fishy theme, I add Thom Yam Khung, prawn curry with vegetables. In Thai gastronomy a curry is more a soup than the rich sauce most westerners would think of and I'm served with a tureen of one of the most delicious meals I've eaten in Thailand, a supposedly single serving but big enough to serve as a starter for four, which I liberally slather over boiled rice. I slake my thirst with two large iced Chang beers, the rivulets of condensation dribbling down the sides of the bottles.
While some people might think of Chiang Rai as Chiang Mai's little brother, that's all to the good as far as many local ex-pats are concerned. Fewer tourists, lower cost of living, less crowded. Sometimes being a provincial backwater has its benefits.