Stand with your back to the arched entrance of São Bento railway station in the historic heart of Porto, with its glorious entrance hall, the walls decorated with 20,000 blue and white azulejo tiles depicting battles, monarchs and country scenes. In front of you is Rua das Flores, possibly Porto's most famous street and one which, after decades of the city being little more than provincial backwater, is seeing a resurgence of popularity and restoration.
At the top of street, a sign on a narrow five-storey building tells you that you can 'Vestir Bem E Barato Só Aqui' (dress well and cheaply here). These days that's hardly likely to apply in Rua das Flores, although while the street is stylish in both in its architecture and shops it still has its share of emporiums selling towels, dressing gowns, baggy grannies knickers, postcards and Porto sweatshirts to keep the street in sanity and stop it getting above itself.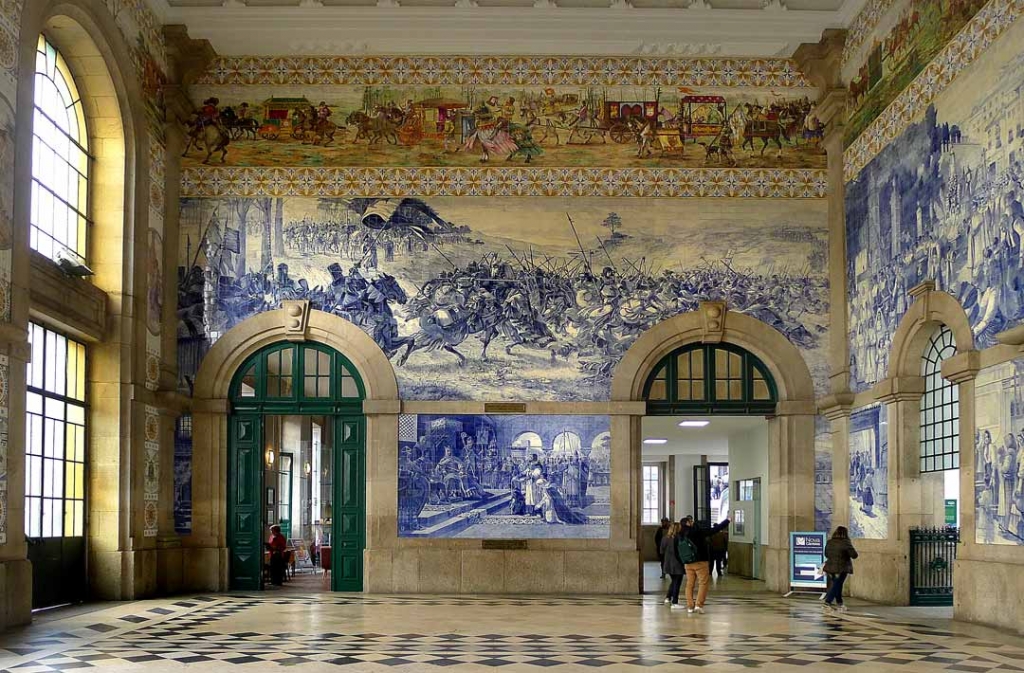 It's mid-morning so I begin my walk by taking coffee and a delicious slice of caramalised apple pie in Café Jóia da Coroa at No. 213, its exterior luxuriously decorated with kitsch plastic floribunda in keeping with the name of the street, Street of Flowers. Once Ourivesaria Allança, the largest jewellery store in the Iberian Penisula with five buildings of five floors each, who claimed Queen Victoria of England among its patrons, it is now a curious mixture of French salon and Edwardian tea-room with the addition of a totally OTT gold rococo button-back sofa.
You are waited on by young ladies, their pretty, cream frilly dresses with red belts and ribbons look prim and sexy at the same time, conjuring up the image of a slightly recherché tea room of the Belle Epoque.
I sit on an elegant pink velour chair, the sparkling chandelier casting its warm glow over the porcelain coffee cup and tea-plate, gilt-banded with a pretty rose decoration. I feel as if I should keek my little finger as I drink, as if the spirit of Queen Victoria has joined me at my table. On the second floor are displays of dresses, jewellery and other elegant ladies' fol-de-rols;  part museum but if something takes your fancy they may sell it.
Livraria Lello may well be the grandest bookshop in Porto but I object to paying €3 just to enter the building, and taking photos is banned. Far more interesting is a short meander down Rua das Flores, to number 28, where, spread over four floors (including basement), Livraria Chaminé da Mota is the largest antiquarian bookstore in Portugal, with over one million items in stock.
The collection began without a catalogue as the private passion of one Pedro Chaminé da Mota and has continued that way ever since. The reference system is idiosyncratic to say the least. Four thousand strips of paper, some written in elegant script, some in capitalised deco font and others in a tidy scrawl, indicate themes, authors etc., with collections bound with lengths of coloured string. The customer asks if the shop has a such-and-such a book and a member of the staff shuffles into the archive to physically search for it, coming back with a yay or nay. Curiously archaic in a Dickensian sort of way, but it works.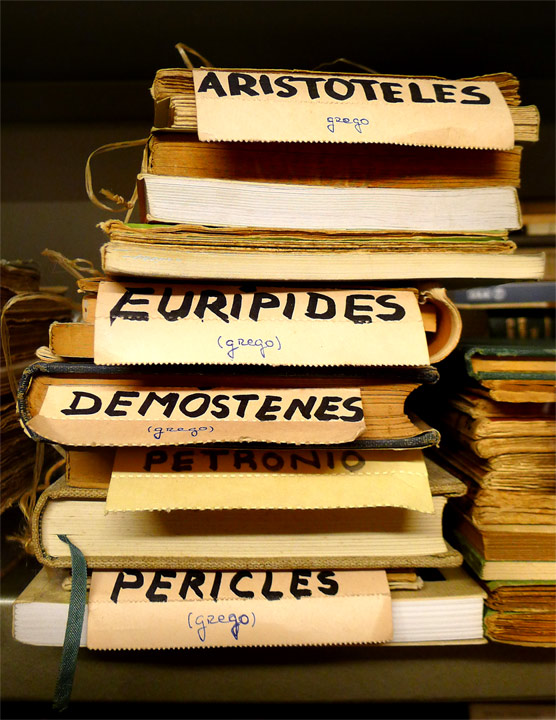 I delve into the basement, a tunnel of texts, not all of which are learned tomes. No Rasto do Anne Frank (The Story of Anne Frank), Rebecca by Daphne Dumuriere, Enciclopedia do Charlie Brown (self-explanatory), Delicioso Pecado (Delicious Sin) by Maria Domingues, 24 pages, number 8 of a saucy monthly series – even Tin Tin gets a look in.
Pedro da Mota, the current proprietor (all the male family members are called Pedro), nephew of the original Pedro, regales me with the stories of collectors finding the totally unexpected in what, to the non-Charmine da Mota eye looks like a very confusing pile. A Parisian who flew into Porto for one night to buy a rare letter by an obscure French poet (name withheld), a South African couple who stepped in to shelter from the rain and got lost in the shelves before leaving four hours later and 10,000€ less in the bank account, and the biggy, the anonymous London-based rare map collector who refused to believe Chamine da Mota had a complete copy of one of the rarest atlas in the world, impossible to find elsewhere, until he inspected the genuine article himself and happily paid 70,000€ to take it home. Sometimes not having a catalogue can lead to the nicest of surprises.
At the bottom of Rua das Flores where it does a dog's-leg down to the Port, Largo São Domingos is a small square. At number forty, Ferragens Fermoura sells wooden toys, household linen, pans large enough to cook a wedding feast, hessian sacks, hardware, catapults, plastic gloves, slate writing boards, wooden toys in fancy-shaped wine boxes, spinning tops, wood-handled skipping ropes, wellington boots and pan scourers, welding masks and bellows, a cornucopia of the everyday, neatly displayed on the original pine shelving that has seen sixty years of service by three generations of the Ferinova family. The decorative high point is the beautifully peaked arch above the otherwise mundane green painted serving counter.
Tucked around the corner at Rua de  Belomonte 14, Esoveraria de Belomonte is a cupboard-size shop that has passed through three generations of the Rodrigues family since it opened in 1927 (with a fourth waiting in the wings), hand-making clothes brushes and shoe brushes with horse and pig hair, and shaving brushes of badger hair.
I work my way down to the Port, only to work my way up again via the 167 steps of Escadas das Verdades that rise up from the river, plus a slope steep enough for thirty more ending in Largo do Primeriro de Dezembro. I could have saved myself the steep climb by taking the Funicular dos Gindals from river to Largo for 2.50€. My intention is to take a walk across Ponte Luis I, the huge arc that spans the River Douro.
Nervously I cross the bridge, the vibration from approaching trams and the height of the drop into the Douro not helping in any way. I couldn't help noticing, though, that most people walked nearer the bollards separating the footpath and the tram line than the rail at the side of the bridge, some even walked on the tramway itself. I had to do it, though, for the glorious view along the quayside on the opposite side of the river and the colourful buildings as they scale the hill.
I reward myself with the emblematic Porto lunch, francesinha – a sandwich of layered spicy sausage meat, bacon, pork and ham, and a fried egg. On top of the sandwich is a layer of melted cheese. Served in a bowl with chips and a thick tomato sauce, almost soup-like, this is the food of winter months, tasty bulk to give you energy – or send you to sleep.