Avenue l'Istiqlal is the major commercial thoroughfare of Essaouira, but more in the style of souks and cupboard-sized shops jam-packed with everything from kids' plastic sandals to mounds of sheep innards and gizzards than the chi-chi boulevards of St. Tropez. And a darned sight more interesting.
The lower, port-side, end begins with the usual repetition of tourist shops but as you progress through the bustle and under a series of arches it quickly becomes shops and services for locals; small grocers with pulses and beans sold from big sacks, tins of tomatoes, puree and jars of jam; small tea-shops selling beghrir – pancakes cooked on a hotplate – with chickens cooking on spits at the side.
I fortify myself with a freshly squeezed sugar-cane juice, spiced with fresh ginger and lemon. 'It's great for the healthy' the vendor tells me, 'and gives you energy, like Red Bull, but this is 100% natural.' And I've got to say, it's good, even if it's twice the price I see a Moroccan pay. There again, it's still only 10Dhms, and makes a refreshing change from the coffee I usually keep myself going with.
Through the first arch I pass a shop selling CDs, where I remember standing on my first visit four years ago, absorbing the music that became a perfect soundtrack to the movement on the evening street. But it's early afternoon now and while the music is more subdued the crowds are still as moving.
Just as you approach the second arch, about the half-way mark of your stroll, the Marché aux Grains, on the obviously-named Place Marché aux Grains, is a detour worth the effort. At a small herbalist, its wares displayed in containers painted in rich blue, their labels explaining the herbs usage, nip down the alley at the side, passing a small shop advertising massage des pieds (foot massage) and enter the fish market. It's a curious place, its interior a semi-dilapidated mix of awful 1970s excrescence architecture, the fish market itself, with the ancient arcaded outer walls
surrounding it filled with herbalists and shops selling brightly coloured ceramics at do-able prices. Tucked in the corner to the left, an area of tables covered in gaudy plastic cloths has three cubbyhole kitchens. Buy your fish at the market; they'll gut and clean it for you to take to one of the kitchens, where they will grill it for you for 10Dhms. Sit at the long tables and benches full of families and feel part of local life.
Back on the street, through the next arch, the first thing you see is an open-fronted butcher whose stock consists of unrecognisable bits of animals' interiors and a couple of chickens. Other shops with something at least recognisable as meat sit next to a Technicolor veg shop sharing street space in perfect harmony with a vendor of ladies pyjamas and towels. Decorated mounds of glistening olives and preserved lemons, a small bowl to sample from;  a big handful of spiced black olives costs me 50 Dhms. Handcarts piled with red onions, trolleys laden with khobz – small, flat round loaves – others with bundles of fresh herbs, shops with displays of brightly coloured biscuits and dates, the tantalizing aroma of mint perfuming the air.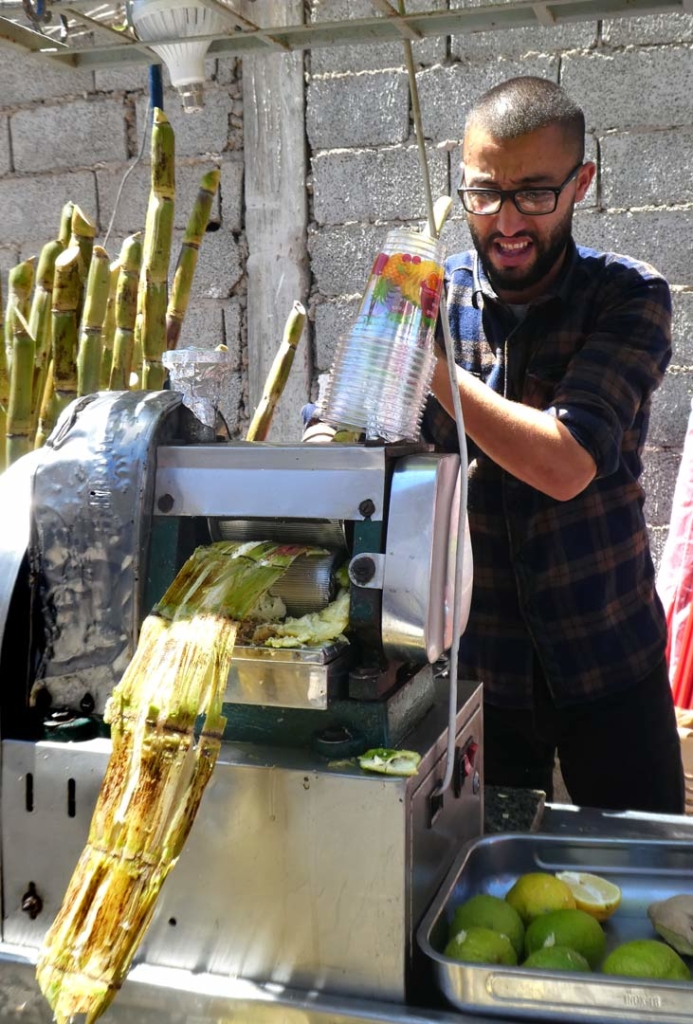 Drift onward with the trade and evening to find piles of knock-off football shirts and Nike caps; jeans and T-shirts by the thousand, nuts swirled in caramel, freshly steamed snails in a bowl – toothpick provided to wiggle them out.
By the time you step through the double arch at Bab Doukkala, the end of the Avenue, the omnipresent Essaouiran wind forces you to lean into it to stay upright, but your senses will have been so bedazzled that it's easy to turn around and do it all again, just to see what you missed. Which is what I do, but not before I take a short detour to Rue de Zaire, a tiny alleyway just inside the wall near Bab Doukkala, where I find one of the most intriguing herbalists I've ever set eyes on.  I step inside and the floor moves with the sound of walking on a stony beach; argen nut shells, tens of thousands of them.
Back on Avenue l'Istiqlal, at 9 pm the street is as busy as at 9 am. Single-seat barber shops give a short back and sides, as much a place to have a jaw with pals as somewhere to get a haircut. Shops are still open but now the middle of the street is laid out with ground-level sales set out on blankets, beginning with scattered piles of clothes and shoes, second-hand and end-of-line new. As you approach the entrance to the Marché aux Grains, fish laid out on boxes or on the ground glow under the yellow street lamps, their shiny scales gathering dust from the feet of passers-by. Butchers hope for a sale of freshly ground mince or a few merguez, the splendid tangy sausage. You can buy your khobz and a handful of olives to make a last minute supper. The fried-fish shop I lunched in is still doing good business, with a queue at the door waiting for a table or you can stand in line for a few minutes at the front counter for a paper-wrapped take-away packet of assorted deep-fried fish if you want to keep on the move. Grab yourself a cold bottle of Pommes sparkling apple juice from the shop next door and a couple of peaches from the stall next to that and you have a feast on the hoof. Add a small brown paper bag of almonds and dates in case you get the munchies later.
I see the rotund, curly-headed man dressed in a bright yellow jacket mismatching with a pair of broad grey and black striped trousers, sat on a plastic crate behind his display of twenty assorted packets of Camel and Malboro in the same spot I saw him twelve hours earlier. Judging by the speed one of his stock disappears as he takes a deep inhalation, I'm surprised he has any left to sell by the end of the day. Maybe he's an eccentric who likes the ambience of the Avenue.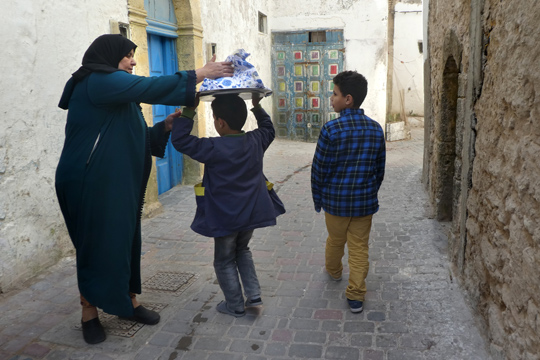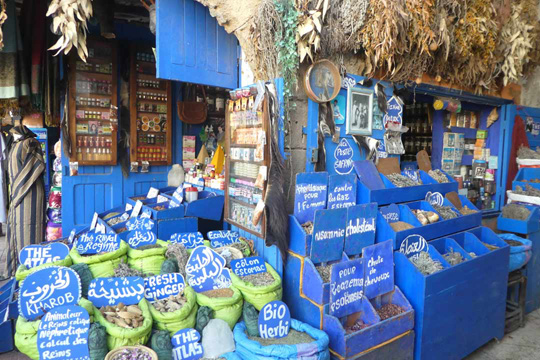 Running parallel with Avenue l'Istiqlal is Avenue Sidi Mohamed Ben Abdellah, half the width of its neighbour, and while the street might be 90% tourist oriented, it still has a cluttered charm.  Outside the Co-operative d'Argen et Femme Berbere a plump lady of indeterminate age puts handfuls of almonds into a stone grinder, laboriously turning it to squeeze out the oil. I suspect she's mainly there for decoration, given the tiny dribble the grinder produces. I offer her five dirhams to allow me to take a photo, which she agrees to, so long as I don't include her face. Later I stop to take a photo of a small wall mural when a young man jumps into the image with a big smile. An improvement on the original mural.
When I wander home at ten the action still hasn't abated and I wonder just how many chickens, scarves, sardines or gelabas will be sold before everyone calls it time to go home. The sugarcane juice vendors from earlier in the day have been replaced by stalls selling grilled meats slipped into a khobz to make a perfect take-away supper. I pass by…I've still got my small brown paper bag of almonds and dates, in case I get the munchies later.
Watch the video, which includes the port and beach.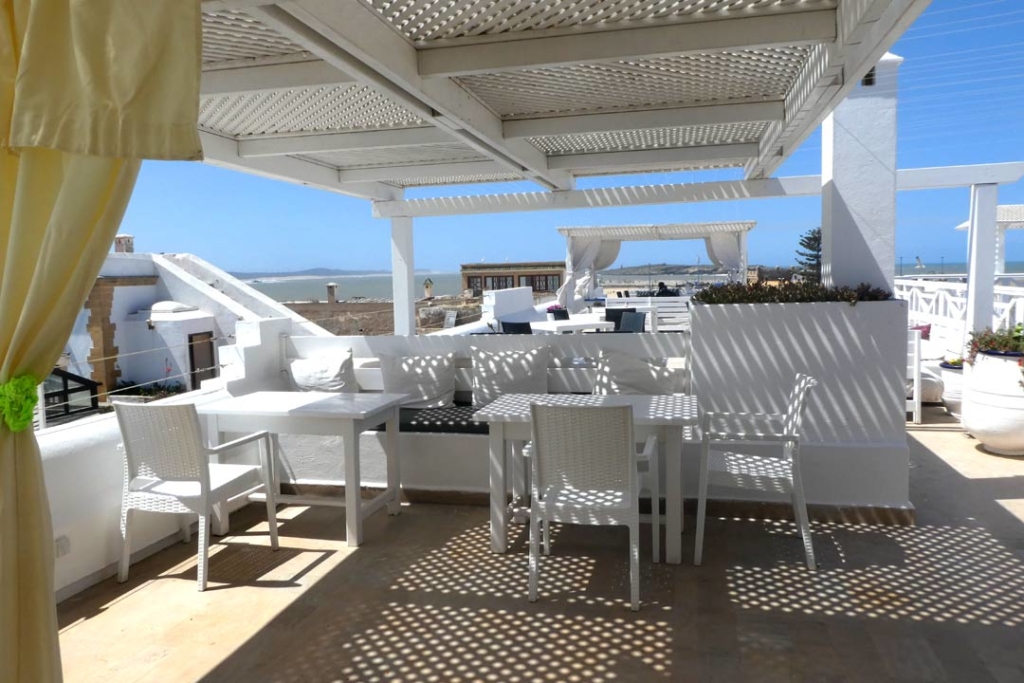 Breakfast on the roof of Dar l'Oussia is delightful, with views to the left across the broad sweep of the beach as it curves into the distance and ahead over the stalwart towers of the 17th century walls that safeguard the port. The roof-top restaurant is glistening white with lots of open spaces to lounge under a vivid blue sky. The view across the beach tempts me to take a stroll. I live in mountain-locked Chiang Mai in the north of Thailand, 500 miles from the nearest beach. I haven't seen sea or sand for three years, the temptation is irresistible.
In a city that is a delightful blend of French, Berber and Portuguese architecture, Hotel Dar L'Oussia has been a caravanserai, a grain warehouse and a range of commercial premises before it was bought in 1949 by the father of the current owner, Yves Pélissier, to create a family home. After the family's return to France in 1955 the building was occupied until 1977, after which it fell into a bad state of repair, but in 2000 a restoration began under the guidance of Mr Pélissier to create the exquisite hotel you see now.
When I arrived the previous evening the weather had been unseasonably cold for April, but a hot shower and snuggle under a thick duvet in a room of warm reds and low lamps for a short nap set me up for dinner in an arcaded restaurant warmed by an open fireplace. Soft lighting, low conversation, attentive but not overwhelming service, with a small but varied menu settled me in. Had the weather been better I could have dined in the courtyard, but the ambience of the dining room suited my feeling of drowsy relaxation. I could do the walk-around and beach scene tomorrow.
To enjoy a mountain escape in Morocco's High Atlas at the multi-award-winning

Kasbah du Toubkal

combined with a beach-side break at

Dar l'Oussia

, click on the link below.