Imagine yourself in the court of King Sri Indraditya in Sukhothai, Siam, in the year 1364. You are the king's consort, Nang Nopomas by name, and you are trying to think of a way to jazz up your kratong, a decorated floating basket, for the annual festival in November to catch the eye of both the king and Phra Mae Khongkha, Goddess of Water, who, hopefully, will smile benevolently on you and forgive your failings and indiscretions of the previous year. "I know," you think, "I'll carve some fruit and veg into flowers and make my little raft look like a huge water lily." And so she did, charming the king so much that he decreed that fruit and vegetable carving would become a heritage art of Siam (as Thailand was then known) and be taught at a special school in the Royal Palace, bearing the name kae-sa-lak.
As with most legends, however, there are various versions. The story is usually attributed to the reign of King Ramkhamhaeng, the founder of Sukhothai, but as he turned up his toes in 1298 it's unlikely he could admire the handiwork of his beloved Nang Nopomas 66 years later. And so it was also with King Sri Indraditya, and even if it was a case of same man, different name, as is common in Thailand, the latter snuffed it in 1270, which would also put him out of the running in the fancy fruit and veg stakes. The truth is that loi krathong is based on a Brahman festival to worship the gods Siva, Vishnu and Brahma and when Thai people adopted Buddhism they simply adapted the ceremony in honour the Buddha's cremated bone. And to make matters worse, dear old Nang Nopomas never even existed; she came into being as a character in a novel written in the early 19th century to give guidance to women hoping to become civil servants. But surely such an elegant and decorative art as the hand-carving of fruit and vegetable needs a delightful legend to complement the beauty of its designs.
Two types of carving
Almost any fruit or vegetable can be carved and used as decoration. Traditionally, flowers were the main designs, based on natural colour and texture but in more recent times animal forms and abstract designs have been included in the carving repertoire.
Skin Carving involves the use of fruit and vegetables where the interior is a different colour to the skin, such as melons (and legend has it that the melon was one of the fruits carved into flowers by Nang Nopomas – which would have meant a pretty substantial kratong to stay afloat under its weight). It's the contrast between the skin and the flesh that emphasises the design.
In Three Dimensional Carving the fruit or vegetable is carved to give the appearance of a real flower, animal or other object, creating an almost floral decoration and often used to grace a table for a special occasion. It's common in larger decorations to combine both carving styles.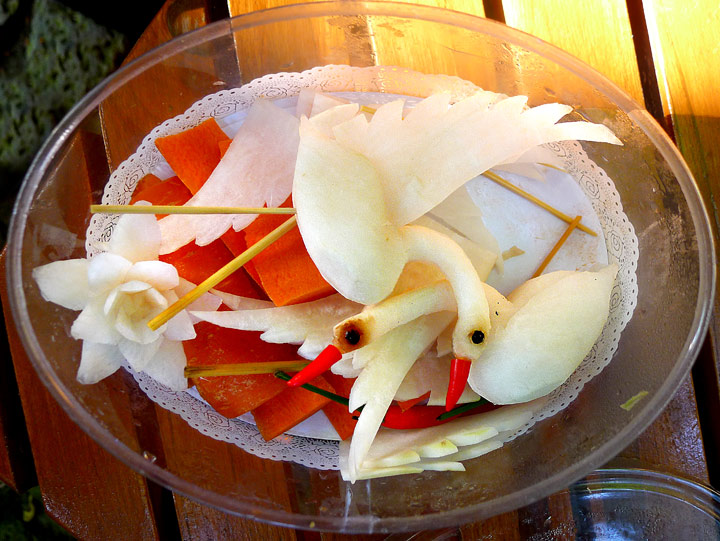 From physiology to fruit
In 1976 Pannee Tooranuparp was working as the hostess in her daughter Sinnee's, restaurant in San Carlos, California, making customers feel comfortable with her delightful Thai manner. When she had left her job as a Physiology/Anatomy instructor at Chiang Mai University years earlier she had taken a course in fruit and vegetable carving and it was while at the restaurant she put her skill to good use.
"Working in a restaurant is a hard job and you always have to keep people happy so that they will come back, because if they don't stay with my restaurant they are going to shop around. I wanted to do something that nobody else was doing so I began to create table decorations with carved fruit and vegetables. Eventually clients told other restaurateurs about my carving and they came to me asking me to show them how to do it."
Pannee's signature is a small white swan using a Chinese daikon, a large white radish, for the neck, body and wings, chili pepper held in place with a wooden skewer for the beak and black peppercorns for eyes. It's the serendipitous origin of her signature that is beguiling.
"I went to the Chateau Montelena Winery with my husband, Warren, a few years ago. It's a beautiful location at the base of Mount St. Helena and at one time it had been owned by a Chinese couple who created a lake called Jade Lake and built two Chinese pavilions in the middle of it with a flock of swans. I'm allergic to alcohol so I went to look at the pool. It was so peaceful and calm with still water and I watched the swans for a while and decided to see if I could copy them." Back at the restaurant, when a customer ordered a combination dish she put a swan in the middle with food displayed around it. Eventually clients ordered the combination because of the bird, which they took home as a souvenir.
Preparation is everything when Pannee is asked to make a display for a special occasion. Few people have any specific idea of what they want and are happy to leave the design in her hands.
"A large centrepiece can take up to three days to create, especially if it includes soft fruits such as strawberries, so I start with the hard vegetables first, such as carrots because once they are carved I can store them in a box in the refrigerator for three days. If I'm using watermelon I have to do that in the morning and then everything is assembled in the afternoon." The watermelon might become a radiant red flower with white tipped petals, a pineapple transforms into a dragon and chilies become delicate flowers. And when the celebration is over, with care the beautiful display can last a few more days.
Thai fruit and vegetable carving went into decline in the 1930's but fortunately it made a come-back and is now taught in schools and private classes throughout Thailand. A delicate art made more beautiful by being ephemeral.
This article was first published in
More stories about Thailand